Hi
Christiaan sent me quite a long e-mail regarding (among a host of other things) how the choice of windsurfing equipment determines who you associate with in your sailing time. His message got me thinking and I will write an article on the important subject of finding one's tribe in the context of being a windsurfer when the Board/Sail articles are over. Right now however, we have sails to discuss and the sizes in question (6.5m and 5.5m) are two which cover the high speed blasting section of the spectrum. Fun, fun, fun!
Because these sizes are smaller than 7m, my preference is that they will have no more than 6 battens. As I mentioned before, fewer battens release the sail to breathe freely in the gusts, allowing the non-racer to keep the board under control in the gusts and over the chop.
The right 6.5m soft sail is totally at ease with the 68 -71cm slalom board loaded with the 39cm fin. You will find the rig unbelievably light after the performance oriented 7.8m sail, and your transitions through the gybes (step and flip) are so effortless you will find yourself grinning from ear to ear. The straight line speed on this combination is potentially far faster than you might imagine. Anyone doubting this should visit us here in Langebaan in November, come to the beach on a windy day with your 6.5m race sail and ask for Andy or Harry. Once you have located them, your mission (should you accept it), is to keep pace with either of them over the course they are sailing. We do not expect you to beat either of them, just try to stay in the picture. Unless you are a national level racer, I am betting that you are going to fail. The right soft, 6.5m sail on a fast board/fin combo is dynamite and the wonderful thing is that it provides so much control, pleasure and excitement at these speeds. The other neat thing is that this sail is even better on a small slalom board
and
the 115l and 95l Rockets as the water state gets rough. As the conditions intensify, just change down on boards and keep the trusty 6.5 flying. I would opt for an rdm mast on this sail to keep things soft. Gaastra's current gold rdms are fantastic and will definitely work with the Cross, Gator and Switch. I'm not sure about the Oxygen - I would need to try one on a gold before I could comment.
Here is a list of the recommended models for this size:
Gaastra Cross 6.4m

Severne Gator 6.5m

Loft Oxygen 6.6m

Maui Sails Switch 6.4m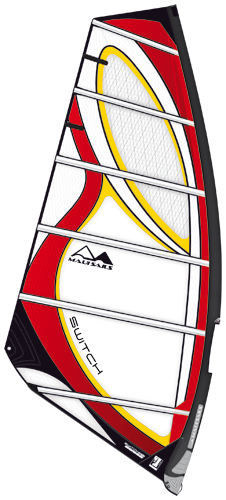 My personal sail in this size is the Gaastra Cross but any of them will give you fantastic service. The Severne Gator is popular on our beach and I have never heard anyone say anything bad about a Gator - wonderful sails.
All of the above points go for the 5.5m soft sails as well. Unfortunately the Oxygen comes in at 5.3 and
5.9m so I would probably confine my selection to the 3 other brands for this size.
Comparing a fast crossover sail to a pure race sail is an interesting exercise. If you could give each sail an attitude and a voice the race sail would sound something like this:
"We are going to go fast. Pay attention! If you sheet out I will punish you again and this time I hope you face plant. If you go into the gybe too slowly I am going to try to rip your arms out. I'm not rotating properly? Just kick me you idiot and stop whining. Do you want to win or are you going to cry? Harden up you pussy!
The crossover sail would sound like this:
"What are we doing today boss? Swells? flat water blasting? How can I help? You're worried about sheeting out? - No problem - just sheet in again and we'll catch them before the end of the run. Lets go and have some fun!"
Talk to you soon. Only one more sail left.