Hi
I promised last time to give some feedback on Andy's experience with the Select VMax fin and also to discuss fins in general. I sometimes take flak from locals for my obsession with fins but I have always believed that the windsurfing fin is one of the most under rated but important pieces of equipment we use.
Andy has been blasting around on his new Manta 116, smoking all of us. He initially rigged the board with his 39cm Select S11 fin and this is the combination which has been causing us all the unhappiness. He uses this fin regardless of the sail (Severne Overdrive 7.5 or Vandal Addict 6.5) and just keeps going faster and faster. When I asked him about getting a VMax he said that he was pretty happy with his set-up and would need to be totally impressed if he was going to be persuaded to use something else. I concluded that he was not going to be in the market for the new VMax. I have ordered a VMax 39cm for my Falcon 113 because I have a feeling that it may be something special but I have never ridden one.
Well, the other day Hennie gave Andy a VMax 41cm to try in his board and the resulting sail is what prompted the phone call. As I said in the last post, he only phones me from work when he is really excited about something and this session was such an event. He is a man who has had a revelation. He tells me he ordered two VMaxes (39cm and 41cm) when he came off the water. I wasn't there but the guys who were sailing with Andy say his performance went from really great with the S11 into a totally different realm with the VMax. My belief is that a great fin will probably not turn a bad board into a good one but the right fin will turn a great board like the Manta 116 into something really special and I think we are going to witness this when the new fins arrive.
In the wake of the above commentary, let us take a peek into the world of exotic windsurfing fins:
Top fins can be divided into two classes -
1. Moulded carbon fins (which I will cover in this post)and
2. G10, CNC milled fins (which I will talk about in the next post)
In this place we have always looked down on G10 fins for high end performance but this is a slightly grey area which I will discuss in the next post.
Kashy
Starting with the carbon fins, the top of the pile has to be the Kashy slalom fin. Dave Kashy is something of a legend in high tech windsurfing circles and accepted as someone who is able to infuse a fin with magic. Each Kashy fin is hand finished by Dave himself so they are expensive and may take anything up to 3 years to be delivered. If you need a Kashy formula fin rushed through in 3 months you will be asked to pay $1800 for the privelage. By comparison his slalom fins seem cheap at $800 a piece. If I won the lottery I would give Dave a shout but I will probably never even see a Kashy slalom fin.
Ifju
The next carbon fin to mention is the Ifju Reaction. This is a carbon fin from one Peter Ifju, a keen windsurfer who is also a professor of Mechanical and Aerospace Engineering at the University of Florida. He has used his understanding of fluid dynamics to develop and manufacture this potent fin. He says that he took some of Dave Kashy's ideas and added some of his own. By all accounts a sweet piece of kit. He sells them for $500 each and as in the case of the Kashy fins, you can specify stiffness and rake for the fins you order.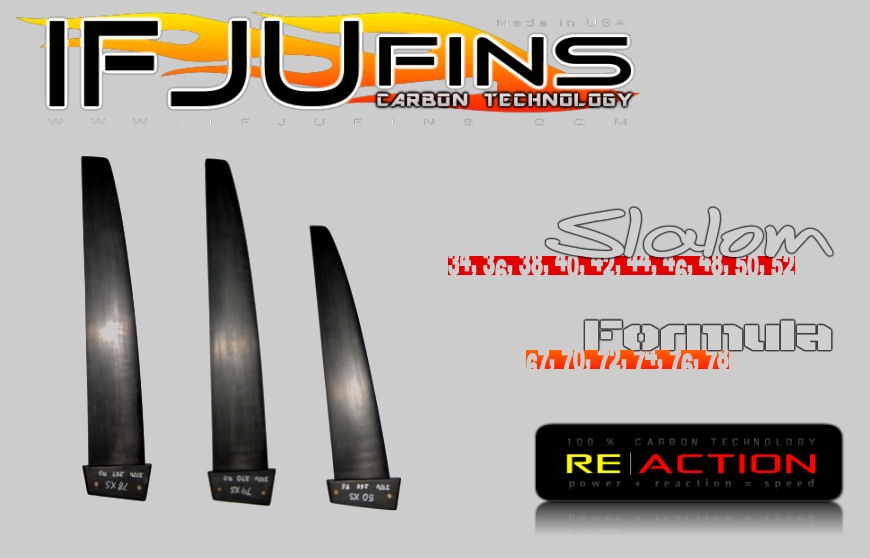 F4
This enterprise was started by a team of fanatical windsurfers in the San Francisco Bay area to develop and make available high end racing fins for a reasonable price in a reasonable time frame. By all accounts they have succeeded in this mission. Everyone who rides F4 fins seems to be immediately converted. Always a true indication of class.
The team employed the services of Boogie (one of the leading fin designers on the planet) to help with the architecture of the fins and have come up with a simple but stunning range. What an intelligent approach to getting your product to the top of the pile!
F4 produces two slalom fins - the D2 for general slalom blasting and the F3 for lighter winds, upwind blasting and downwind control - (D2 for your Manta 116/71 and F3 for your Manta 135/85 for example)
This is a picture of Henrik Carstens fin quiver. Henrik is a Danish sailor who clearly knows what he wants and more importantly, knows what he
is doing. All F4 D2's – Awesome!
I know that envy is a bad thing but the universe will forgive us in this case.
I'm surprised to see that the 2 big fins are on shallow Tuttle boxes but man what a quiver!
The price of F4 fins starts at $375 and they will send your purchase directly to you wherever you live. They use Paypal so transactions are easy. These are nice guys who are helpful and have their act together.
Z Fins
Z Fins is a concern based in Estonia and their fins are becoming a favorite on the PWA pro circuit.
These fins can be purchased from the factory or from a supplier such as Dave Gollick at Windsurfingfins.co.uk.
Prices are around $450 per fin.
Deboichet
Deboichet make the fins which gave most of us our first look at a true high end fin. I have ridden their SL2, and also their SL4 model and these were, in my opinion both great fins. They produce many slalom fin models but for my money these two between them, should give any of us all the fin we could want. I think that lead times on these products could be a problem. Depending on where you buy them they cost around the $380 mark.
SL4
SL 2
Sonntag
Sonntag is a European fin producer responsible for some really high end products. Their SL-P model is the one which is of interest to the general blaster. The cost of these fins is around $220 giving you a lot of fin for your money.
Sonntag SL-P



Select
In my opinion Select has never been an upmarket producer but Andy's experience with, and comments on the VMax, together with those of Hennie and Robby Benze (two world class power racers), lead me to believe that Select may have joined the top producers with this fin.
Select VMax
The quality of the VMax seems impeccable and the price is not too bad for those of us living at the tip of Africa with pretend currency. Anthony, our local supplier, is able to get these fins for us for around $220 and this price is about the same as you can find in Europe and the States. We will soon be in a position to give you some personal feedback on these fins so watch this space.
OK that is all for now. In the next post I will discuss some G10 fins which also provide great performance.
Good winds